Sintesis Alkyd Resin dari Daun Kemangi (Ocimum Basilicum) Terhadap Perbandingan Minyak Atsiri Dan Gliserin Sebagai Pelarut
Dony Syamsuddin Halomoan Pasaribu

IST AKPRIND Yogyakarta

Theodorus Cahyo Paparingan

Institut Sains & Teknologi AKPRIND Yogyakarta

Fatah Ibnul Qoyyim

Ani Purwanti
Abstract
Basil (Ocimum sanctum) is the largest basil species in the whole world, its leaves have many chemical contents and one of them is oil. The oil content in basil leaves can be used as a material in research for the synthesis of alkyd resin. Alkyd resin is a polyester product from condensation polymerization of three monomers, namely polyols, polybasic acids, and fatty acids or triglyceride oil. The manufacturing process uses two methods, namely alcoholysis, and esterification. Alcoholysis begins with reacting essential oils and glycerin, while the esterification is the process of mixing phthalic anhydrate into a batch reactor containing an alcoholysis product. The variables used in this study are the comparison between the amount of oil and the amount of glycerin with the research point starting at 1: 2, 1: 3, 1: 4, 1: 5, and 1: 6 and analysis its viscosity, acid number, iodic number, and color. The results obtained in the analysis show that 1: 5 is more effective to be used for further research because the compatibility of the results with the reference value. The results obtained were viscosity 30139.5 cP, acid number 7,4628 mg / g, iodine number 6.90915 mg / g, and dark yellow color.
Key words: alkyd resin, basil, and essential oil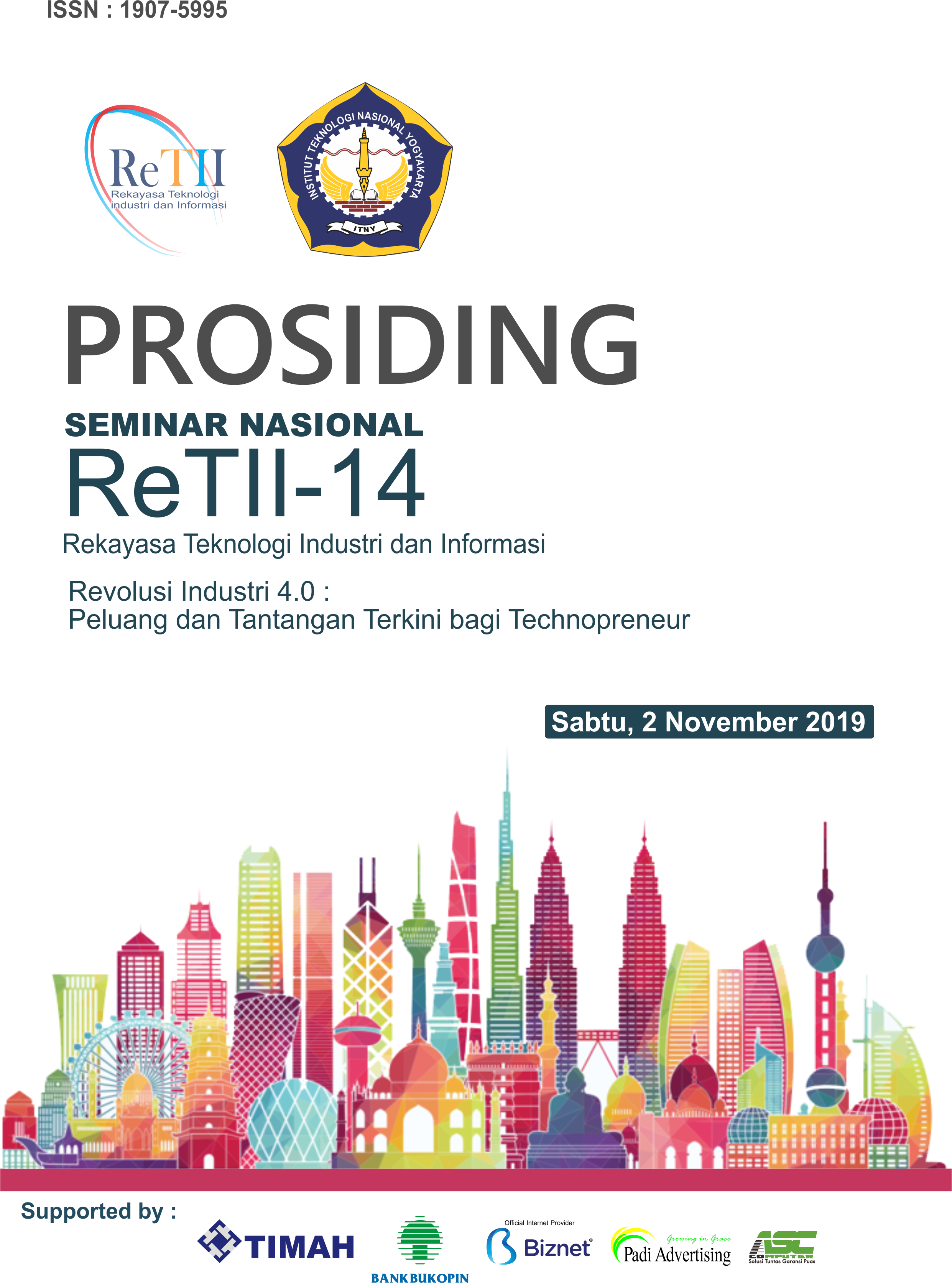 How to Cite
Pasaribu, D. S. H., Paparingan, T. C., Fatah Ibnul Qoyyim and Ani Purwanti (2019) "Sintesis Alkyd Resin dari Daun Kemangi (Ocimum Basilicum) Terhadap Perbandingan Minyak Atsiri Dan Gliserin Sebagai Pelarut", ReTII, pp. 407–413. Available at: //journal.itny.ac.id/index.php/ReTII/article/view/1302 (Accessed: 22September2020).
Prosiding ini memberikan akses terbuka langsung ke isinya dengan prinsip bahwa membuat penelitian tersedia secara gratis untuk publik mendukung pertukaran pengetahuan global yang lebih besar.
Semua artikel yang diterbitkan Open Access akan segera dan secara permanen gratis untuk dibaca dan diunduh semua orang.