ANALYSIS OF THE GENESIS OF IGNEOUS ROCK WITH COLUMNAR JOINT STRUCTURE USING FIELD AND PETROGRAPHY DATA IN LEMAHABANG, DORO, PEKALONGAN, JAWA TENGAH
BAYU AJI SETIYAWAN

INSTITUT TEKNOLOGI NASIONAL YOGYAKARTA

Oky Sugarbo

Institut Teknologi Nasional Yogyakarta
Keywords:
Colonnade, Columnar Joint, Pekalongan, Petrography.
Abstract
The phenomenon of a geological object that is formed in the form of a columnar joint structure in the Lemahabang, Doro, Pekalongan, Central Java area is one of the formations of volcanic activity that happened in the past. Local community assumes that this phenomenon is an ancient relic in the form of megalithic site, but it can be explained  scientifically through an analysis of the columnar joint characteristic by using field and petrografy data. The observasion by using quantitative and qualitative methods on rock samples in the research area showed that these rocks are andesite were afanitic-porphyritic textured with the type of colonnade and 4-7 facet formation with a diameter ranging from 30-87 centimeters. Columnar joint in the research area has dimention of 5 to 7 meters of height with a vertical orientation direction (80-90⁰) and horizontal orientation direction (0-30⁰). The purpose of this research is to provide an overview how columnar joint structure in Lemahabang can form so the local community doesn't assume that the geological phenomenon is a tample.
References
1. Condon, W.H., Pardyanto, L., Ketner. K.B., Amin. T.C., Gafoer. S., Samodra H. Peta Geologi Skala 1:100.000 Lembar Banjarnegara dan Pekalongan. Pusat Penelitian dan Pengembangan Geologi: Bandung. 1996.
2. Gray, N. H. Symmetry in a Natural Fracture Pattern: The Origin of Columnar Joint Networks. Pergamon Press Ltd. 1986.
3. Hetényi, G., Taisne, B., Garel, F., Médard, É., Bosshard, S. and Mattsson, H.B. Scales of columnar jointing in igneous rocks: field measurements and controlling factors. Bulletin of Volcanology, 74(2). 2012. 457-482.
4. Indradjaja, A. Jelajah Pusaka Alam dan Budaya, Lemahabang, Pekalongan. Pusat Penelitian Arkeologi Nasional. 2018.
5. Mackenzie, W.S., Donaldson, C.H., Guilford, C. Atlas of Igneous Rocks and their Texture. 1982.
6. O'Dunn, S., Sill, W.D. Exploring Geology. Introductory Laboratory Activities. 1986.
7. Van Bemmelen, R.W. The Geology of Indonesia, The Hague Martinus Nijhoff, Vol. 1A. 1949.
8. Wentworth, C.K. A scale of grade and class terms for clastic sediments. The journal of geology, 30(5). 1922. 377-392.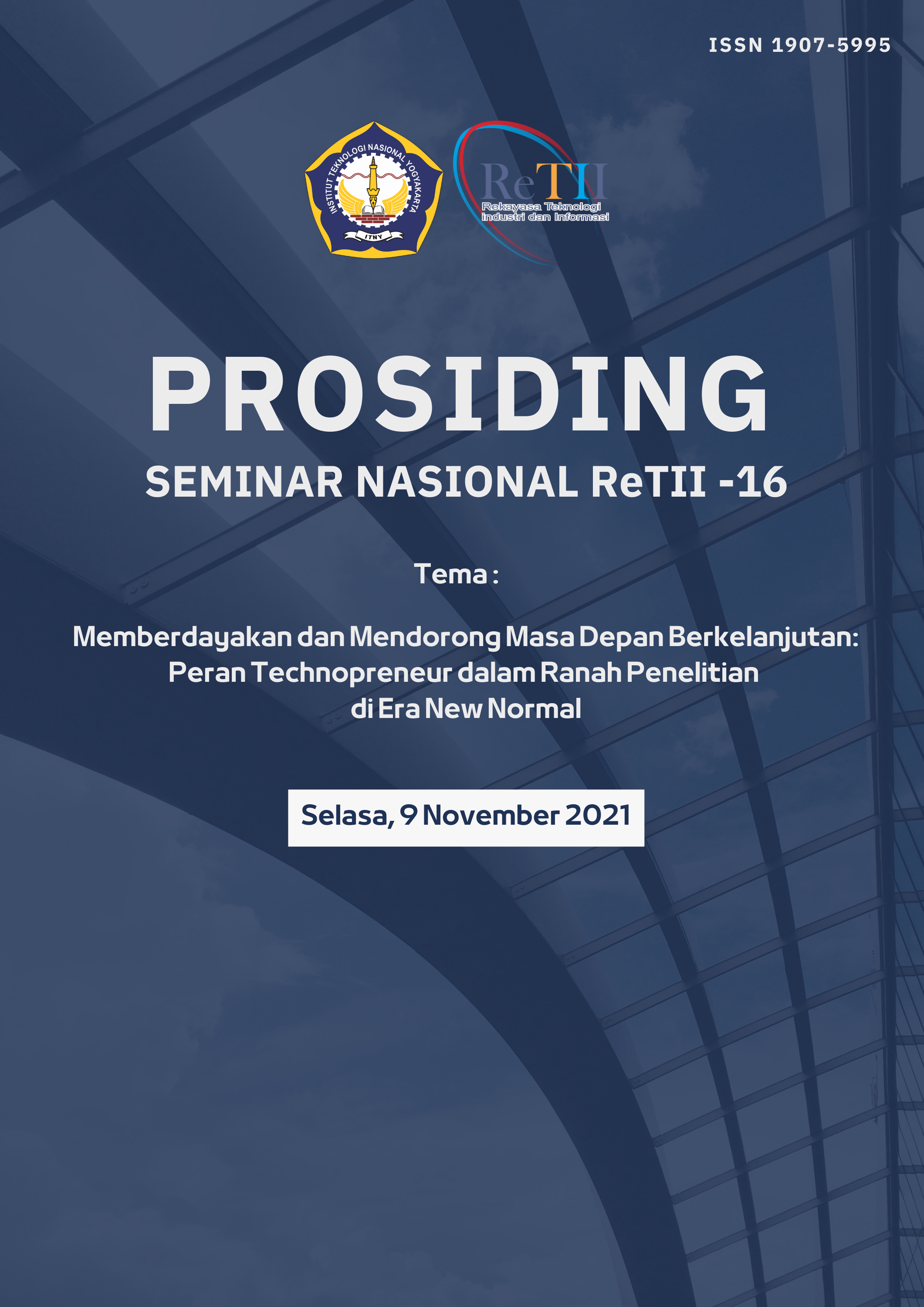 How to Cite
SETIYAWAN, B. A. and Oky Sugarbo (2021) "ANALYSIS OF THE GENESIS OF IGNEOUS ROCK WITH COLUMNAR JOINT STRUCTURE USING FIELD AND PETROGRAPHY DATA IN LEMAHABANG, DORO, PEKALONGAN, JAWA TENGAH", ReTII, pp. 417 - 424. Available at: //journal.itny.ac.id/index.php/ReTII/article/view/2628 (Accessed: 25September2023).
Prosiding ini memberikan akses terbuka langsung ke isinya dengan prinsip bahwa membuat penelitian tersedia secara gratis untuk publik mendukung pertukaran pengetahuan global yang lebih besar.
Semua artikel yang diterbitkan Open Access akan segera dan secara permanen gratis untuk dibaca dan diunduh semua orang.