Investigasi Bidang Gelincir THE FIELD INVESTIGATION OF SLIDING TRIGGERS OF SOIL MOVEMENT (LANSLIDS) USING THE GEOLISTRIC METHOD IN SAMBIREJO VILLAGE, PRAMBANAN DISTRICT, SLEMAN REGENCY
INVESTIGASI BIDANG GELINCIR PEMICU TANAH LONGSOR
agung agungprakosowicaksono

ITNY
Keywords:
THE FIELD INVESTIGATION
Abstract
Sambirejo Village, Prambanan District, Sleman District, Yogyakarta's Special Territory, as well as the most likely landslides disaster is high. This is evident in the multitude of incidents of motion on the ground, and it has resulted in the both physical and loss of life. The study was conducted to analyze ground-movement rock by means of a method of mapping surface geology and subsurface geological mapping. The mapping of surface geology provides insight into such as surfaces area litology, morphology, and geological structures. Sub-surface mapping of geology provides insight into the state of geology below the surface, such as lyric and geological structures. The research area have steep topography dominated by the sedimentary rock of a Tuff and Breksi Andesit and have high rainfall figures every beginning and end of the year. This study produced a subsurface 2D Geological modelling that was useful for investigating rocks from the trigger of soil motion. The existing type of soil movement is creep. Updated research can be used as of basic information on disaster mitigation, and regional building.
Keywords: Sambirejo Village, Landslides, Tuff, Breksi Andesit.
References
Jurnal:
[1] Bemmelen, van, R.W. 1949. Geologi of Indonesia. Vol. Ia General Geology of Indonesia and Adjacent Archipelago. Goverment Printing Office, The Hauge.
[2] Bronto, S., Hartono, G., Astuti, B., dan Mulyaningsih, S., 2008b. Formasi Wonolelo: usulan nama satuan litostratigrafi baru untuk batuan gunung api Tersier di daerah Bantul, Yogyakarta. Prosiding Seminar Nasional Ilmu Kebumian "Tantangan dan Strategi Pendidikan Geologi dalam Pembangunan Nasional", Jurusan Teknik Geologi, FT UGM, Yogyakarta.
[3] Damtoro, J. (2007). Aplikasi Metode Geolistrik Konfigurasi Dipole-Dipole Untuk Mendeteksi Mineral Mangan (Physical. Jember: Universitas Jember.
[4] Dibyosaputro, S. (1992). Longsorlahan Di Daerah Kecamatan Kokap. Yogyakarta: Fakultas Geografi UGM.
[5] Grandis, H. (1986). Penerapan Metode Gaya Berat dan Tahanan Jenis Dalam Eksplorasi Pendahuluan Daerah Prospek Panasbumi. Tugas Akhir Jurusan GM–ITB.
[6] Hartono, G., 2010. Petrologi Batuan Beku dan Gunung Api. Unpad Press, Bandung
[7] Hoek E & Bray J.W, 1981, Rock Slope Engineering, Rev 3rd ed, The Institute of Mining and 4 Metalurgy, London
[8] Loke, M. H. (1999). A Practical Guide to 2D and 3D Surveys. Electrical Imaging Surveys for Environmental and Engineering Studies, 8-10.
[9] Nandi. (2007). Longsor. Bandung: Jurusan Pendidikan Geografi FPIPS UPI
[10] Novian, M.I., Setiawan, P.K.D., Salahuddin Husein, S. dan Rahardjo, W., 2007. Stratigrafi Formasi Semilir bagian atas di Dusun Boyo, Desa Ngalang, Kecamatan Gedangsari, Kabupaten Gunung Kidul, DIY. Makalah disampaikan pada Seminar dan Workshop Potensi Pegunungan Selatan dalam Pengembangan Wilayah, Inna Garuda, 27-29 November 2007.
[11] Surono, S. (2009). Litostratigrafi Pegunungan Selatan Bagian Timur Daerah Istimewa Yogyakarta dan Jawa Tengah. Jurnal Geologi dan Sumberdaya Mineral, 19(3), 209-221.
[12] Surono, Toha, B. & Sudarno, I, 1992. Peta Geologi Lembar Surakarta-Giritontro, Jawa, Skala 1 : 100.000. Pusat Penelitian dan Pengembangan Geologi, Bandung.
[13] Telford W.M., L.P Geldart, dan R.E Sheriff, 1990, Applied Geophysics, Second Edition, Cambridge University Press, Cambridge. pp. 522-524
[14] Van Zuidam, R. A. (1985). Aerial Photo-Interpretation Terrain Analysis and Geomorphology Mapping. ITC: Smith Publisher The Hague.
[15] Waluyo, H. E. (2000). Teori Dan Aplikasi Metode Resistivitas. Yogyakarta: UGM
[16] Reynolds, J. M. (1997). An Introduction to Applied and Environmental Geophysics. England: John Wiley and Sons Ltd.
[17] Surono, 2008a. Sedimentasi Formasi Semilir di Desa Sendang, Wuryantoro, Wonogiri, Jawa Tengah. Jurnal Sumber Daya Geologi, 18 (1) : 29-41.

Proceeding:
[1] Prastowo R, Trianda O, Novitasari S. (2018). Identifikasi kerentanan gerakan tanah berdasarkan data geologi daerah kalirejo kecamatan kokap, kabupaten kulonprogo, yogyakarta. Kurvatek Vol.03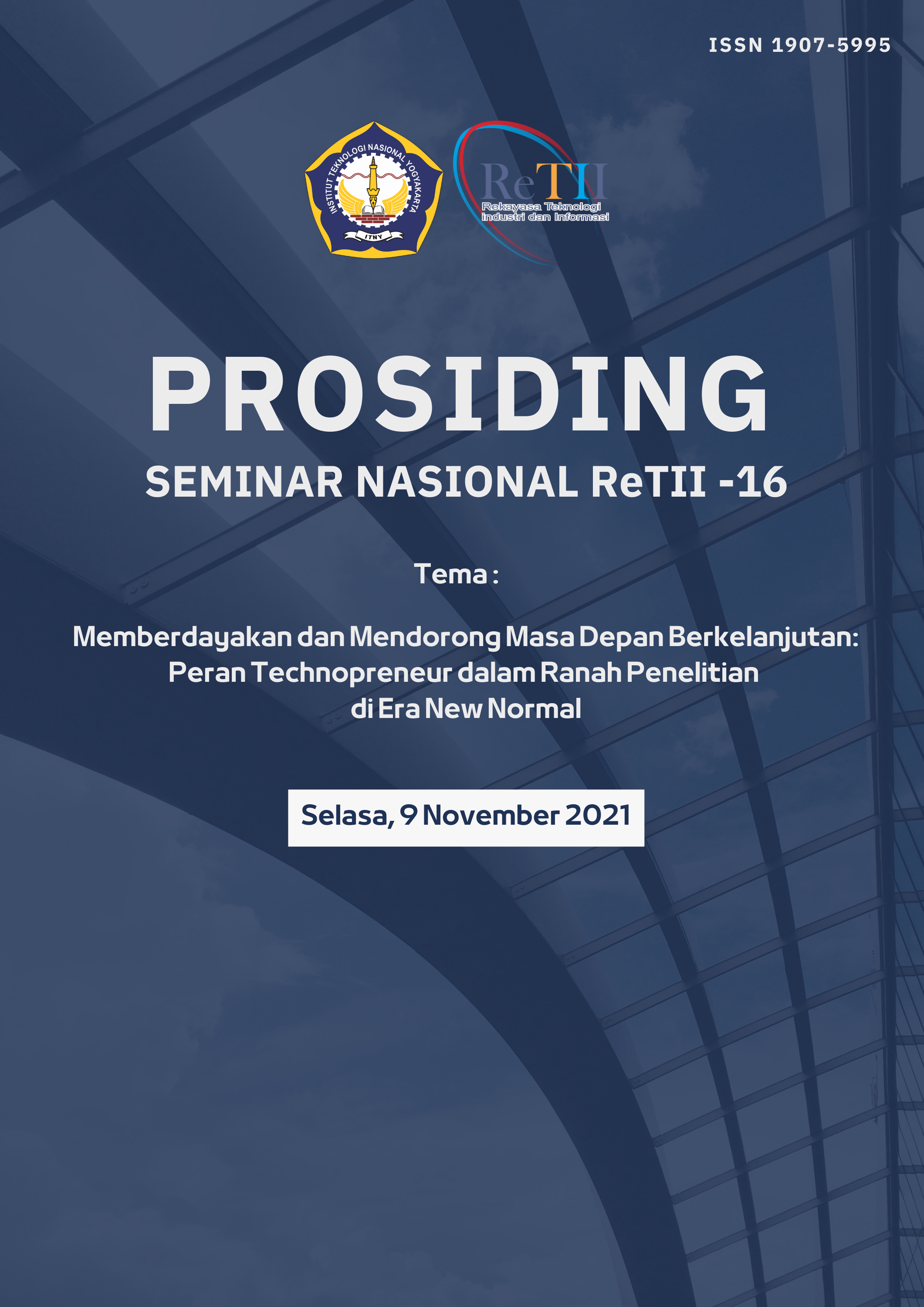 How to Cite
agungprakosowicaksono, agung (2021) "Investigasi Bidang Gelincir THE FIELD INVESTIGATION OF SLIDING TRIGGERS OF SOIL MOVEMENT (LANSLIDS) USING THE GEOLISTRIC METHOD IN SAMBIREJO VILLAGE, PRAMBANAN DISTRICT, SLEMAN REGENCY", ReTII, pp. 433 - 444. Available at: //journal.itny.ac.id/index.php/ReTII/article/view/2630 (Accessed: 28September2022).
Prosiding ini memberikan akses terbuka langsung ke isinya dengan prinsip bahwa membuat penelitian tersedia secara gratis untuk publik mendukung pertukaran pengetahuan global yang lebih besar.
Semua artikel yang diterbitkan Open Access akan segera dan secara permanen gratis untuk dibaca dan diunduh semua orang.