IDENTIFICATION OF DISASTER-PRONE AREAS LANDSLIDE METHOD OF SKORING MOJOTENGAH AREA AND SURROUNDING AREAS, REBAN SUBDISTRICT, BATANG REGENCY, CENTRAL JAVA PROVINCE
reza_krisnandi reza krisnandi

Institut Teknologi Nasional Yogyakarta

Obrin Trianda

Institut Teknologi Nasional Yogyakarta

Al Hussein Flowers Rizqi

Institut Teknologi Nasional Yogyakarta

https://orcid.org/0000-0003-1787-230X
Keywords:
Disaster, Vulnerability, Landslide, Mojotengah.
Abstract
Administratively the research area is included in the Dieng Volcano Complex which consists of several volcanoes that have slopes steep. The steep slope is one of the main occurrences of landslide movements. Determination of landslide-prone areas using a scoring method with GIS software with parameters such as slope, rock type, soil type class, rainfall, and land use. Based on these 5 parameters, the research area is divided into 3 low landslide-prone areas with a value of 33.00-52.00 with an area of ​​24.19% of the research area which is generally spread out in the northern part of the research area occupying areas with relatively gentler slopes. Areas prone to moderate landslides with a value of 52.01-61.00 with an area of ​​28.91% of the research area which are generally spread out in the middle of the research area occupy areas with relatively steep slopes. Areas prone to landslides are high with a value of 61.01-80.00 with an area of ​​46.90% of the research area which is generally spread in the uthern part of the researh area occupying areas with steep-very steep slopes.
Keywords: Disaster, Vulnerability, Landslide, Mojotengah.
References
[1] Amri,Yulianti, Yunus, dkk, (2016). RBI Risiko Bencana Indonesia. Jakarta : BNPB.
[2] Badan Nasional Penanggulangan Bencana (BNPB). 2016. Rawan Bencana Indonesia.
[3] Bakosurtanal, 2000. Peta Batas Administrasi Kabupaten Batang Skala 1:50.000.
[4] BMKG. (2008). Curah Hujan dan Potensi Bencana Gerakan Tanah. Jakarta.
[5] Dwikorita Karnawati. 2005. Bencana Alam Gerak Massa Tanah di Indonesia dan Upaya Penanggulangannya. Yogyakarta: Universitas Gajah Mada.
[6] Dewi, T.S., Kusumayudha S.B., & Purwanto H.S (2017), Zonasi Rawan Bencana Tanah Longsor dengan Meotde Analisis GIS: Studi Kasus Daerah Semono dan Sekitarnya, Kecamatan Bagelen, Kabupaten Purworejo, Jawa Tengah. Jurnal Mineral Energi dan Lingkungan, Vol. 1, No. 1., 2017, hal 50 – 59.
[7] PVMBG. 2004. Manajemen Bencana Tanah Longsor. Dipetik dari https://vsi.esdm.go.id/
[8] Subardja, S., Ritung, S., Anda, M., Sukarman., Suryani, E., dan Subandiono, R., 2016. Klasifikasi Tanah Nasional. Badan Penelitian dan Pengembangan Pertanian, Bogor.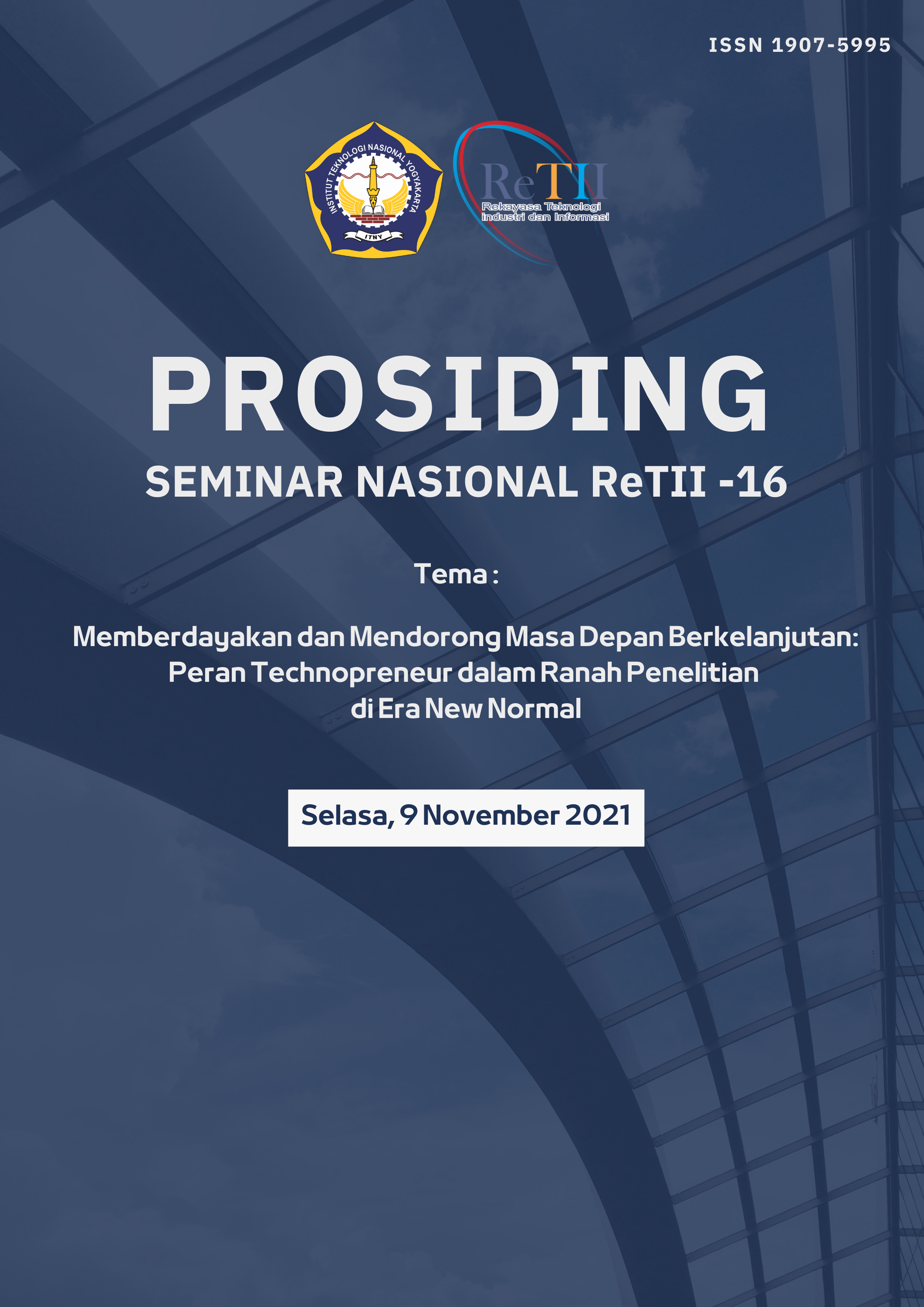 How to Cite
reza krisnandi, reza_krisnandi, Trianda, O. and Rizqi, A. H. F. (2021) "IDENTIFICATION OF DISASTER-PRONE AREAS LANDSLIDE METHOD OF SKORING MOJOTENGAH AREA AND SURROUNDING AREAS, REBAN SUBDISTRICT, BATANG REGENCY, CENTRAL JAVA PROVINCE", ReTII, pp. 501 - 508. Available at: //journal.itny.ac.id/index.php/ReTII/article/view/2678 (Accessed: 28September2022).
Prosiding ini memberikan akses terbuka langsung ke isinya dengan prinsip bahwa membuat penelitian tersedia secara gratis untuk publik mendukung pertukaran pengetahuan global yang lebih besar.
Semua artikel yang diterbitkan Open Access akan segera dan secara permanen gratis untuk dibaca dan diunduh semua orang.