Virtual Laboratory for Power Quality Study
Sugiarto Kadiman

Teknik Elektro Sekolah Tinggi Teknologi Nasional Yogyakarta

Oni Yuliani

Institut Teknologi Nasional Yogyakarta
Abstract
Makalah ini memperlihatkan laboratorium virtual untuk mempelajari peristiwa kualitas daya, yaitu voltage swell dan voltage sag, harmonik, dan flicker, yang digunakan oleh siswa untuk belajar dan menguji pengetahuan mereka tentang subjek terkait. Laboratorium virtual diperlukan karena dalam kehidupan nyata, dalam ranah kualitas daya, merupakan sesuatu yang rumit untuk menghasilkan peristiwa kualitas daya dalam memahami efek atau menganalisis fitur-fiturnya. Laboratorium virtual dianggap memberikan kesempatan kepada siswa untuk mempelajari terlebih dahulu aspek teoritis dari suatu mata pelajaran, kemudian menerapkan pengetahuan yang mereka kumpulkan ke berbagai bentuk isyarat, untuk mendapatkan karakteristik peristiwa dan pada akhirnya untuk menguji hasil yang mereka capai. dengan karakteristik isyarat tersebut. Terdapat dua manfaat utama pada penggunaan laboratorium virtual: pertama adalah siswa dapat melihat peristiwa yang berbeda, dengan karakteristik yang berbeda dan dengan cara ini, mereka lebih memahami fenomena tersebut; dan yang kedua adalah laboratorium konvensional untuk pembelajaran peristiwa kualitas daya sangatlah mahal, komponen utamanya memiliki biaya yang sangat tinggi.
References
[1] Atanasijevic-Kunc, M., Logar, V., Karba, R., Papic, M., & Kos, A. Remote multivariable control design using a competition game, IEEE Transactions on Education, 2011; 54 (1): 97-103.
[2] Patton, J.B., & Jayanetti, P.The making of multimedia power systems control and simulation labware, IEEE Transactions on Education, 1996, 39 (3): 314-319.
[3] Baloi, A., & Pana, A., A Virtual Measurement Instrument for Three Phase Electrical Networks Analysis, Proceedings of the 8th WSEAS International Conference on Engineering Education (EDUCATION '11), Corfu Island, Greece, 14-16 July 2011 (215-220).
[4] O. P. Mahela, A. G. Shaik and N. Gupta, A critical review of detection and classification of power quality events, Renew. Sustain. Energy Rev. 2015, 41: 495–505.
[5] S. Rönnberg and M. Bollen, Power quality issues in the electric power system of the future, Electr. Journal, 2016, 26: 49–61.
[6] L. Bam and W. Jewell, Review: power system analysis software tools, IEEE Power Eng. Soc. Gen. Meeting, 1, 2005, 139–144.
[7] U. Drofenik and J. W. Kolar, Survey of modern approaches of education in power electronics, Seventeenth Ann. IEEE Appl. Power Electron. Conf. Expo. 2, 2002, 749–755.
[8] R. H. G. Tan and V. K. Ramachandaramurty, A Comprehensive Modeling and Simulation of Power Quality Disturbances Using MATLAB/SIMULINK. 2015. http://dx.doi.org/10.5772/61209.
[9] V. M. Perelmuter. Electromechanical System: Simulation with Simulink and SimPowerSystems. CRC Press, Boca raton, New York, 2013.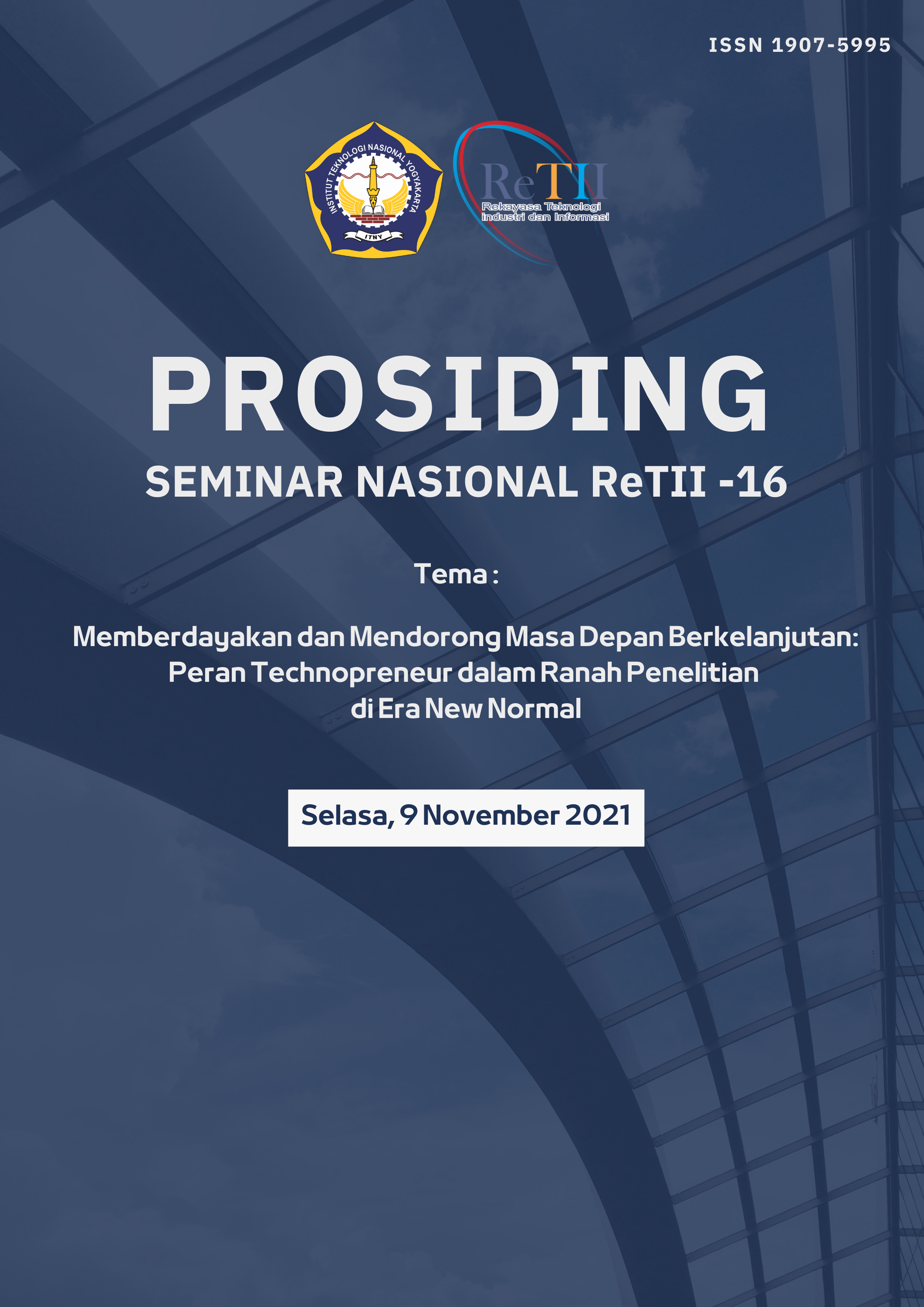 How to Cite
Kadiman, S. and Yuliani, O. (2021) "Virtual Laboratory for Power Quality Study", ReTII, pp. 98 - 107. Available at: //journal.itny.ac.id/index.php/ReTII/article/view/2698 (Accessed: 28September2022).
Prosiding ini memberikan akses terbuka langsung ke isinya dengan prinsip bahwa membuat penelitian tersedia secara gratis untuk publik mendukung pertukaran pengetahuan global yang lebih besar.
Semua artikel yang diterbitkan Open Access akan segera dan secara permanen gratis untuk dibaca dan diunduh semua orang.