Perbandingan Identifikasi Bangunan Sederhana Desa Kalirejo, Kecamatan Kokap, Kabupaten Kulon Progo Yogyakarta
SELY NOVITA SARI

triwuryanto

wahyu anisa dwi bekti
Abstract
The vulnerability of a building is a factor that can cause damage to the building or fail to achieve the expected performance in the event of a disaster. Efforts need to be made to reduce the risk of disasters, one of which is knowing the status of inhabited buildings by identifying their buildings. The method in this study is to compare the results of a simple building identification analysis using a simple building evaluation form (typical of walls) with the Building Rapid Assessment Application (ACeBS). The result of identifying whether it has similarities if done analysis with the same house but different methods. The results obtained from this study are as many as 46 houses (38%) of homes are in the same condition as the results using the ACEBS application. The status of the building from safe to vulnerable is 30 houses (25%). The condition of the building from safe to very vulnerable is 17 houses (14%). The status of buildings from unsafe to very vulnerable is 13 houses (11%). Cases of building change from unsafe to not vulnerable as many as 9 houses (7%,) and the case of building change from unsafe to vulnerable as many as 2 houses (2%). The condition of unsafe buildings becomes not vulnerable as many as 2 houses (3%).
References
[1] Sari, S. N., & Prastowo, R. (2019). PETA POTENSI KERUSAKAN BANGUNAN AKIBAT KERENTANAN GERAKAN TANAH DI DAERAH KALIREJO KULONPROGO YOGYAKARTA. ReTII, 435~441. Retrieved from //journal.itny.ac.id/index.php/ReTII/article/view/1472.
[2] Sari, S. N., Prastowo, R., Junaidi, R., & Machmud, A. (2020). Rapid Visual Screening of Building for Potential Ground Movement in Kalirejo, Kulonprogo, Yogyakarta. Jurnal Ilmiah Pendidikan Fisika Al-Biruni, 9(1), 51-59
[3] Wikipedia, (2021). Kalirejo, Kokap, Kulon Progo. (n.d.). https://id.wikipedia.org/wiki/Kalirejo,_Kokap,_Kulon_Progo (Akses: 9 oktober 2021 pukul 14.00)
[4] Nandi, 2007. Longsor. Bandung: FPIPS-UPI.
[5] Armayani, A. (2012). Studi Sifat Fisis Batuan Pada Daerah Rawan Longsor Kecamatan Parangloe Kabupaten Gowa Sulawesi Selatan (Doctoral dissertation, UIN Alauddin Makassar).
[6] Prastowo, R., Trianda, O., & Novitasari, S. (2018). IDENTIFIKASI KERENTANAN GERAKAN TANAH BERDASARKAN DATA GEOLOGI DAERAH KALIREJO, KECAMATAN KOKAP, KABUPATEN KULONPROGO, YOGYAKARTA. KURVATEK, 3(2), 31-40. https://doi.org/10.33579/krvtk.v3i2.782
[7] Sari, S. N., & Triwuryanto, T. (2021). KAJIAN PEMELIHARAAN DAN PERAWATAN BANGUNAN GEDUNG SESUAI DENGAN PERATURAN MENTERI PEKERJAAN UMUM NO. 24/PRT/M/2008. Civil Engineering, Environmental, Disaster & Risk Management Symposium (CEEDRiMS) Proceeding 2021.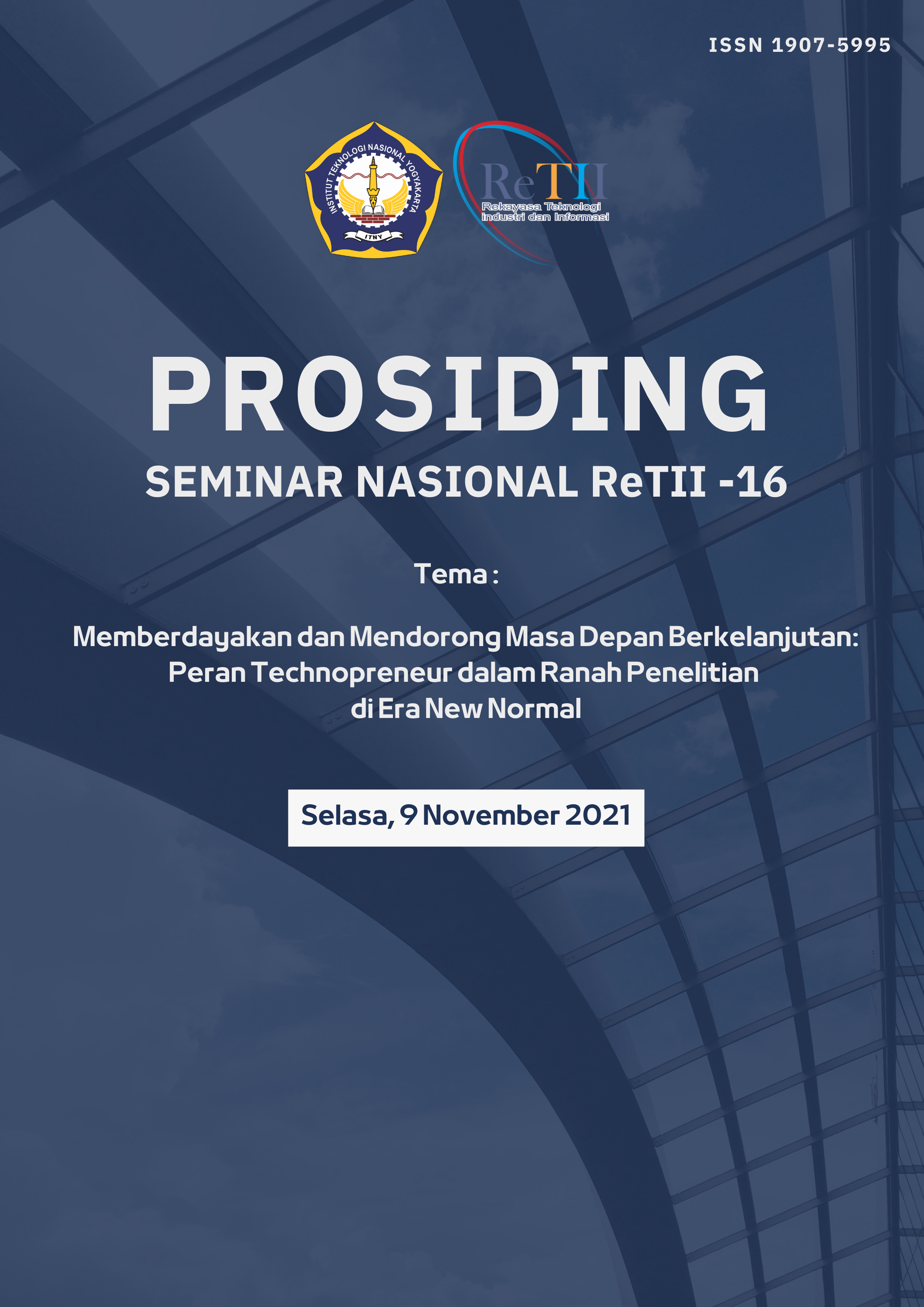 How to Cite
SARI, S. N., triwuryanto and dwi bekti, wahyu anisa (2021) "Perbandingan Identifikasi Bangunan Sederhana Desa Kalirejo, Kecamatan Kokap, Kabupaten Kulon Progo Yogyakarta", ReTII, pp. 555 -. Available at: //journal.itny.ac.id/index.php/ReTII/article/view/2723 (Accessed: 28September2022).
Prosiding ini memberikan akses terbuka langsung ke isinya dengan prinsip bahwa membuat penelitian tersedia secara gratis untuk publik mendukung pertukaran pengetahuan global yang lebih besar.
Semua artikel yang diterbitkan Open Access akan segera dan secara permanen gratis untuk dibaca dan diunduh semua orang.