Analisis Litofasies dan Lingkungan Pengendapan Formasi Nanggulan Lintasan Kali Songgo, Kabupaten Kulon Progo
Delvina Syaifira Norma Hani

Institut Teknologi Nasional Yogyakarta

Al Hussein Flowers Rizqi

Institut Teknologi Nasional Yogyakarta

https://orcid.org/0000-0003-1787-230X

Hita Pandita

Institut Teknologi Nasional Yogyakarta
Keywords:
facies association, Nanggulan Formation, Kali Songgo track, lithofacies, depositional environment
Abstract
The Nanggulan Formation has a very narrow spread compared to other formations. In Kulon Progo formation has the oldest age in the Middle Eocene-Early Oligocene. This research is located on the Songgo River at coordinates 07 ° 44 '00.7 "S - 110 ° 12' 17.5" E to 07 ° 44 '15.3 "S - 110 ° 11' 53.6" E. This research intends to reveal the types of depositional environments that are developed along the Kali Songgo track using measured stratigraphic log analysis. The stratigraphic log's interpretation indicated lithofacies, facies associations, and the depositional environment. The lithofacies that compiled the research location based on lithological data and sedimentary structure can be divided into ten types: a.Bedded claystone, b.Laminated sandstone, c.Cross-bedding sandstone, d.Bedded sandstone, e.Bedded siltstone, f.Massive claystone, g.Laminated siltstone, h.Graded-bedding sandstone, i.Wavy sandstone, and j.Massive sandstone. Three facies associations are recognized based on the lithofacies grouping: 1. Mud flats, 2. Mixed flats, and 3. Sand flats. The depositional environment that developed along Kali Songgo track was Tidal flats.
References
Purnamaningsih, S. dan Pringgoprawiro, H. 1981. Stratigraphy and Planktonic Foraminifera of the Eocene-Oligocene Nanggulan Formation, Central Java, Geol.Res.Dev.Centre Pal.Ser. Bandung, Indonesia, No. 1, 9-28.
Pambudi., S., dan Sujono. 2016. Konfigurasi Cekungan Purba Formasi Nanggulan Di Daerah Nanggulan, Kulon Progo, Daerah Istimewa Yogyakarta. Prosiding Seminar Nasional RETII ke-11, STTNAS Yogyakarta.
Rahardjo., W., Sukandarrumidi, dan Rosidi, H.M.D., 1977. Peta Geologi lembar Jogjakarta, Jawa skala 1:100.000, Edisi II. Pusat Penelitian dan Pengembangan Geologi. Bandung.
Van Bemmelen R.W. 1949. The Geology of Indonesia, Vol. 1A, General Geology of Indonesia and Andjacent Archipelagos, Martinus Nijhoff, The Hague, 732 hal.
Miall, A. D. 2013. Principles of sedimentary basin analysis. Springer Science & Business Media.
Dunham, R. J. 1962. Classification of Carbonate Rocks According to Depositional Texture. In."Classification of Carbonate Rocks" (W. E. Ham, ed.). Mem. No.1, h. 108 – 121. Am. Assoc. Pet. Geol., Tulsa, Oklahoma.
Pettijohn FJ. 1975. Sedimentary rocks, 3rd ed. New York: Harper & Row. 1975:165.
Dalrymple, R. W. 1992. Tidal depositional systems. Facies models response to sea-level change. 195-218.
Walker, R.G., and James, N. P. 1992. Facies Models: response to sea level change, Geological Association of Canada
Boyd, R., Dalrymple, R., & Zaitlin, B. A. 1992. Classification of clastic coastal depositional environments. Sedimentary Geology, 80(3-4), 139-150.
AL HUSSEIN FLOWERS, R. I. Z. Q. I. (2019). IDENTIFIKASI STRUKTUR GEOLOGI DAN IMPLIKASINYA TERHADAP PENYEBARAN BATUAN FORMASI ANDESIT TUA–SENTOLO DI SUNGAI NITEN, GIRIPURWO, KULON PROGO. Angkasa: Jurnal Ilmiah Bidang Teknologi, 11(2), 152-163.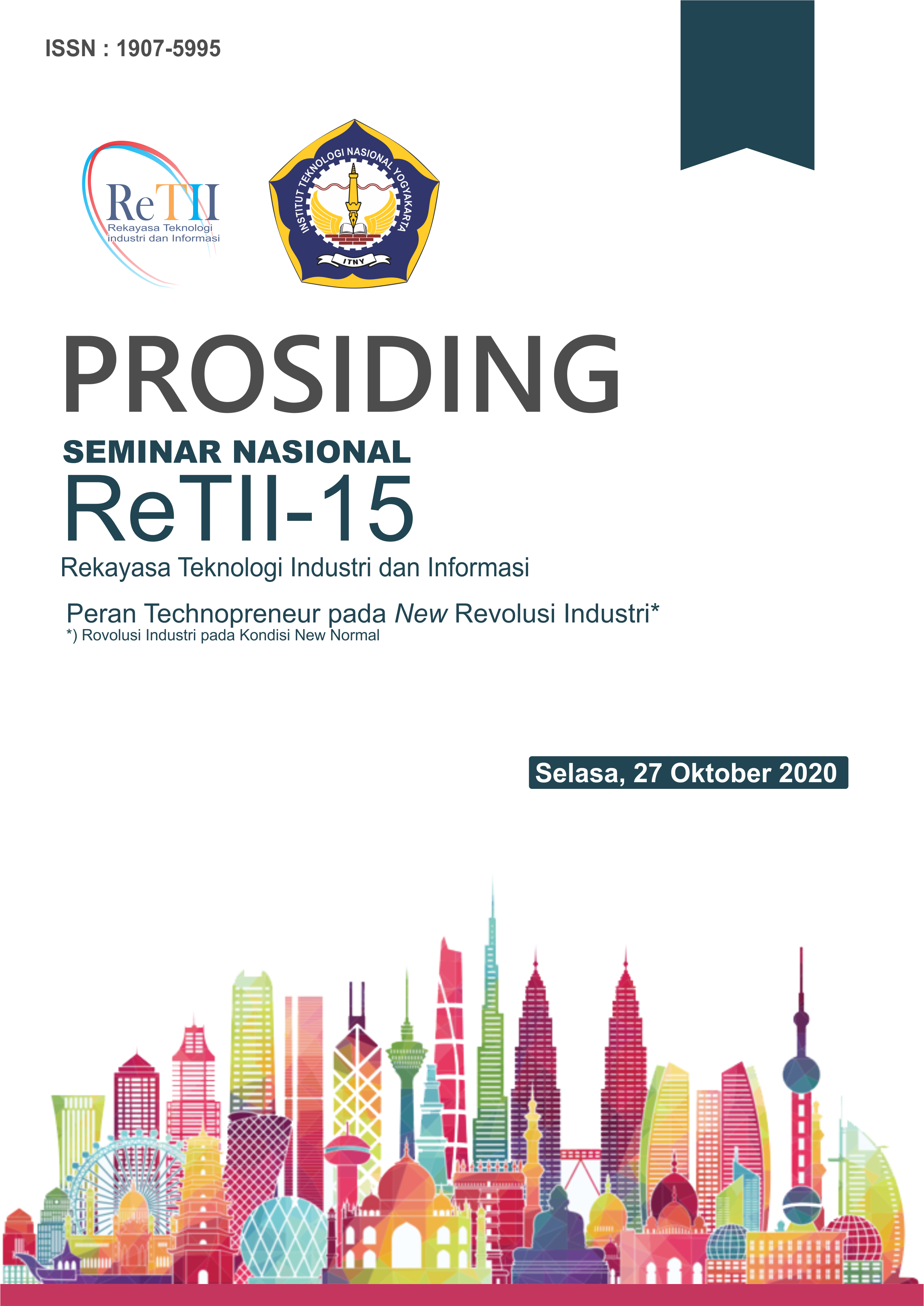 How to Cite
Hani, D. S. N., Rizqi, A. H. F. and Pandita, H. (2020) "Analisis Litofasies dan Lingkungan Pengendapan Formasi Nanggulan Lintasan Kali Songgo, Kabupaten Kulon Progo", ReTII, pp. 298-309. Available at: //journal.itny.ac.id/index.php/ReTII/article/view/2020 (Accessed: 28September2021).
Prosiding ini memberikan akses terbuka langsung ke isinya dengan prinsip bahwa membuat penelitian tersedia secara gratis untuk publik mendukung pertukaran pengetahuan global yang lebih besar.
Semua artikel yang diterbitkan Open Access akan segera dan secara permanen gratis untuk dibaca dan diunduh semua orang.