OVERVIEW COMPARISON OF ACTIVE AND PASSIVE ALTERNATIVE TECHNOLOGY IN ACID MINE DRAINAGE MANAGEMENT
Shahensah Anand Anggian Rambe

082369308227

Nurkhamim
Keywords:
Acid mine drainage, active alternative, passive alternative
Abstract
ABSTRACT
The formation of a metal-rich acid solution known as Acid Mine Drainage (AMD) is a common problem associated with mineral and coal mining in Indonesia. AMD is formed when sulfide minerals such as pyrite (Fe2S) are found to be mixed with coal or overburden in direct contact with oxygen and water during the operational and post-mine closure phases. Therefore, the management of acid mine drainage (AMD) needs to be done so that the water that comes out of the mining area that enters the water does not pollute the environment. Alternative AMD management is generally divided into two, namely active technology and passive technology. The author conducted a comparison of several literatures to analyze active and passive alternative methods, and determine the factors that influence pH changes during treatment. From these results it was found that the selection of the appropriate AMD management method depends on the level of efficiency in the processing of water chemical properties including pH, metal and sulfate concentrations in minimizing costs and risks to the environment.
Keywords: Acid mine drainage, active alternative, passive alternative
References
[1] RoyChowdhury, A., Sarkar, D., & Datta, R. (2015). Remediation of acid mine drainage-impacted water. Current Pollution Reports, 1(3), 131-141.
[2] Bell, F. G., Hälbich, T. F. J., & Bullock, S. E. T. (2002). The effects of acid mine drainage from an old mine in the Witbank Coalfield, South Africa. Quarterly Journal of Engineering Geology and Hydrogeology, 35(3), 265-278.
[3] Hesketh, A. H., Broadhurst, J. L., & Harrison, S. T. L. (2010). Mitigating the generation of acid mine drainage from copper sulfide tailings impoundments in perpetuity: A case study for an integrated management strategy. Minerals Engineering, 23(3), 225-229.
[4] Skousen, J., Politan, K., Hilton, T., & Meek, A. (1990). Acid mine drainage treatment systems: chemicals and costs. Green Lands, 20(4), 31-37.
[5] Onwardana, M. E., Rizni Andari, P., Tibri, T., & Ardiansyah, E. (2020). STUDI EFEKTIVITAS PENGGUNAAN KAPUR TOHOR (CaO) DAN SODA KAUSTIK (NaOH) PADA PENGELOLAAN AIR ASAM TAMBANG. Saintek ITM, 33(1).
[6] Gautama, R. S. (2012). Pengelolaan air asam tambang. Institut Teknologi Bandung, Bandung.
[7] Potgieter-Vermaak, S. S., Potgieter, J. H., Monama, P., & Van Grieken, R. (2006). Comparison of limestone, dolomite and fly ash as pre-treatment agents for acid mine drainage. Minerals Engineering, 19(5), 454-462.
[8] Henny, C., Ajie, G. S., & Susanti, E. (2010). Pengolahan air asam tambang menggunakan sistem "passive treatment". In Dalam Prosiding Seminar Nasional Limnologi V (pp. 331-343).
[9] INDRA, H., LEPONG, Y., GUNAWAN, F., & ABFERTIAWAN, M. S. (2014). Penerapan Metode Active dan Passive Treatment Dalam Pengelolaan Air Asam Tambang Site Lati. Jurnal Ilmiah. Oktober.
[10] Sato, Y., Hamai, T., Hori, T., Habe, H., Kobayashi, M., & Sakata, T. (2018). Year-round performance of a passive sulfate-reducing bioreactor that uses rice bran as an organic carbon source to treat acid mine drainage. Mine Water and the Environment, 37(3), 586-594.
[11] Said, M. S., Nurhawaisyah, S. R., Juradi, M. I., Asmiani, N., & Kusuma, G. J. (2020). Analisis Kandungan Fly Ash Sebagai Alternatif Bahan Penetral Dalam Penanggulangan Air Asam Tambang. Jurnal Geomine, 7(3), 170.
[12] Vadapalli, V. R., Gitari, M. W., Petrik, L. F., Etchebers, O., & Ellendt, A. (2012). Integrated acid mine drainage management using fly ash. Journal of Environmental Science and Health, Part A, 47(1), 60-69.
[13] Adha, C. W., Ramli, M., & Thamrin, M. (2018, January). ANALISIS EFEKTIVITAS KAPUR TOHOR DAN ZEOLIT UNTUK PENINGKATAN pH DAN PENURUNAN KANDUNGAN LOGAM Fe DAN Cu PADA PENGOLAHAN AIR ASAM TAMBANG. In Prosiding Seminar Nasional Teknologi, Inovasi dan Aplikasi di Lingkungan Tropis (Vol. 1, No. 1, pp. 43-51).
[14] Wolkersdorfer, C. (2008). Water management at abandoned flooded underground mines: fundamentals, tracer tests, modelling, water treatment. Springer Science & Business Media.
[15] Taylor, J., Pape, S., & Murphy, N. (2005, August). A summary of passive and active treatment technologies for acid and metalliferous drainage (AMD). In Fifth Australian workshop on acid drainage (Vol. 2931).
[16] Bhattacharya, J., Ji, S. W., Lee, H. S., Cheong, Y. W., Yim, G. J., Min, J. S., & Choi, Y. S. (2008). Treatment of acidic coal mine drainage: design and operational challenges of successive alkalinity producing systems. Mine Water and the Environment, 27(1), 12-19.
[17] Skousen, J., Hilton, T., & Faulkner, B. (1996). Overview of acid mine drainage treatment with chemicals. Green Lands, 26(3), 40-49.
[18] Kiswanto, K., Wintah, W., & Rahayu, N. L. (2020). ANALISIS LOGAM BERAT (Mn, Fe, Cd), SIANIDA DAN NITRIT PADA AIR ASAM TAMBANG BATU BARA. JURNAL LITBANG KOTA PEKALONGAN, 18.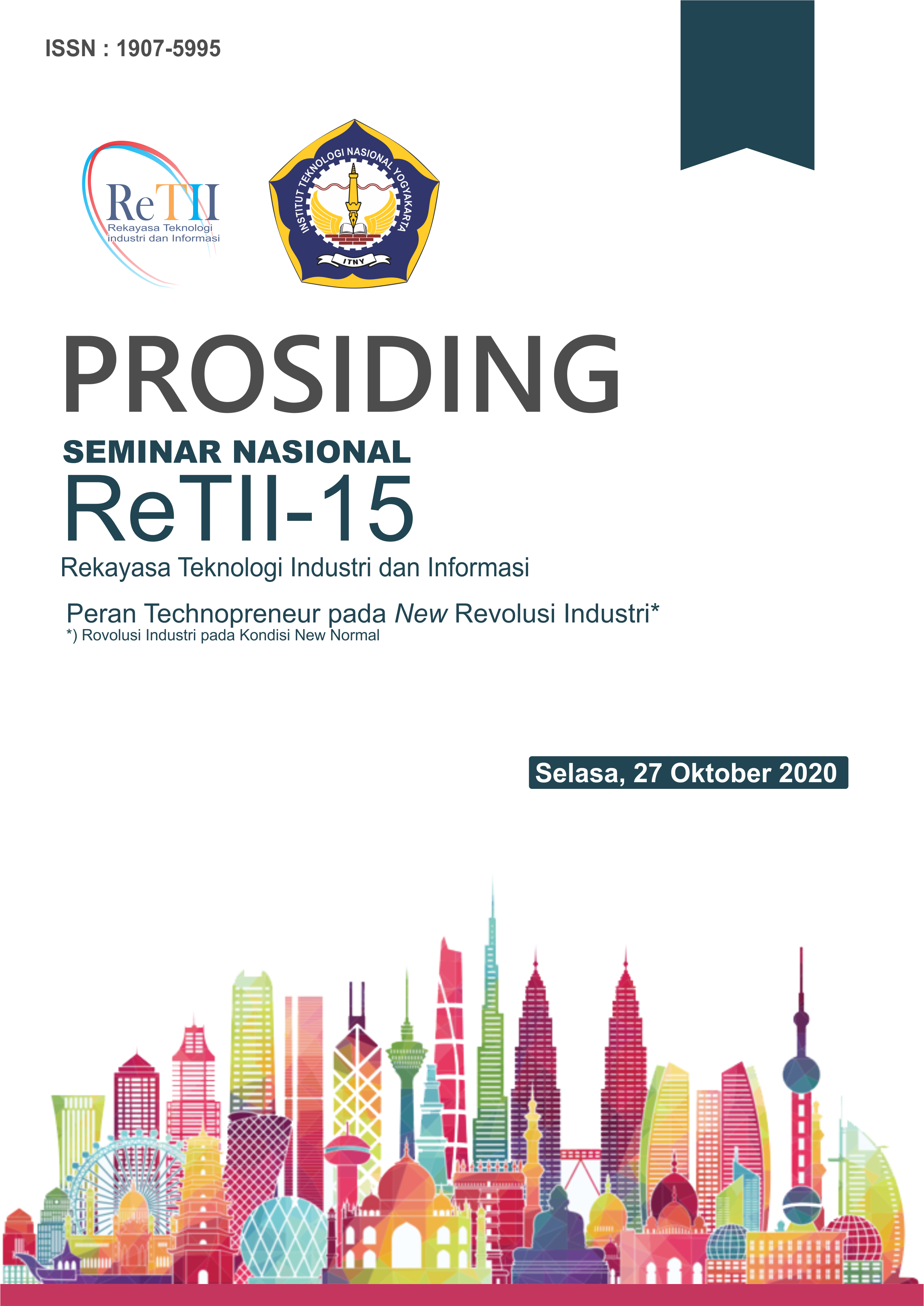 How to Cite
Shahensah Anand Anggian Rambe and Nurkhamim (2020) "OVERVIEW COMPARISON OF ACTIVE AND PASSIVE ALTERNATIVE TECHNOLOGY IN ACID MINE DRAINAGE MANAGEMENT", ReTII, pp. 149-155. Available at: //journal.itny.ac.id/index.php/ReTII/article/view/2053 (Accessed: 25October2021).
Prosiding ini memberikan akses terbuka langsung ke isinya dengan prinsip bahwa membuat penelitian tersedia secara gratis untuk publik mendukung pertukaran pengetahuan global yang lebih besar.
Semua artikel yang diterbitkan Open Access akan segera dan secara permanen gratis untuk dibaca dan diunduh semua orang.